Our menu is updated regularly to include the freshest and best ingredients based on the seasons, produce, and local ingredients! We always have delicious, intriguing items!
Traditional Drinks
 Latte
Cappuccino
Flat White
Cortado
Americano
Drip Coffee
Cafe Au Lait
Doppio Espresso
Espresso Macchiato
Espresso Con Panna
Pour Over
French Press
Cold Brew
Cafe De Olla Cold Brew
Blended Drinks
Smoothies:
Mango
Mango-Nada
Strawberry
Pina Colada
PowerBerry
Frappucinos:
Chocolate (Dairy-Free)
Carmel
White Chocolate
Add-Ons
Oat Milk 
Almond Milk 
Soy Milk 
16 oz. Iced Cup 
Extra Shot of Espresso 
Syrup 
International Drinks
Greek Frappe
Turkish Coffee
Vietnamese Iced Coffee
Moroccan Americano
Mexican Spice Latte
Freddo Espresso
Freddo Cappuccino
Flat White Cubano
Teas
Matcha Latte
Chai
Dirty Chai
Golden Turmeric Latte
London Fog
Loose Leaf:
Jasmine
Coconut Oolong
Lemon Ginger
Hibiscus
English Breakfast
Earl Grey
Golden Chamomile
Summer Specials
Coconut Latte
Matcha Rose
Strawberry White Chocolate
Watermelon Latte
Pistachio Vanilla Latte
Fruity Pebbles
Blueberry Lavender Latte
Guava Chai
Cort-Capp
Mixed Cocktails
Espresso Martini
Double Shot of Espresso
Tito's Vodka
Shine & Grind Coffee Liquer
Simple Syrup
Margarita
Distilador Reposado Tequila
Resita Triple Sec
Margarita Mix
Whiskey + Coke
Evan Williams Bourbon
Coke
Rum + Coke
Kraken Spiced Rum
Coke
Gin + Tonic
New Amsterdam Gin
Tonic Water
Vodka + Soda
Tito's Vodka
Soda Water
Beer
Torpedo Extra IPA – 7.2% ABV
Guinness Extra Stout – 5.6% ABV
Blue Moon – Belgian White 5.4% ABV
Angry Orchard – Hard Cider Crisp Apple 5% ABV
Stella Artois – 5% ABV
Shiner Bock – 4.4% ABV MADE IN TEXAS!
Wine
Red:
A Feeling For Cabernet Sauvignon
2020
Central Valley, Chile
12.5% ABV
White:
A Feeling For Chardonnay
2020
Central Valley, Chile
13% ABV
made with espresso and hot steamed milk
brewed using cold water for a refreshing coffee drink
traditional Vietnamese coffee recipe, iced coffee with sweetened condensed milk
We also serve alcohol for those looking for a different kind of pick-me-up! We are excited to add this to our shop!
Our coffee comes from roasters who source the highest quality beans from small farms with environmental responsibility. We strive to provide the finest products to our customers.
Our pastries come from a local bakehouse that delivers no-less-than-perfect goods every day. We develop relationships with small local businesses that provide for their communities.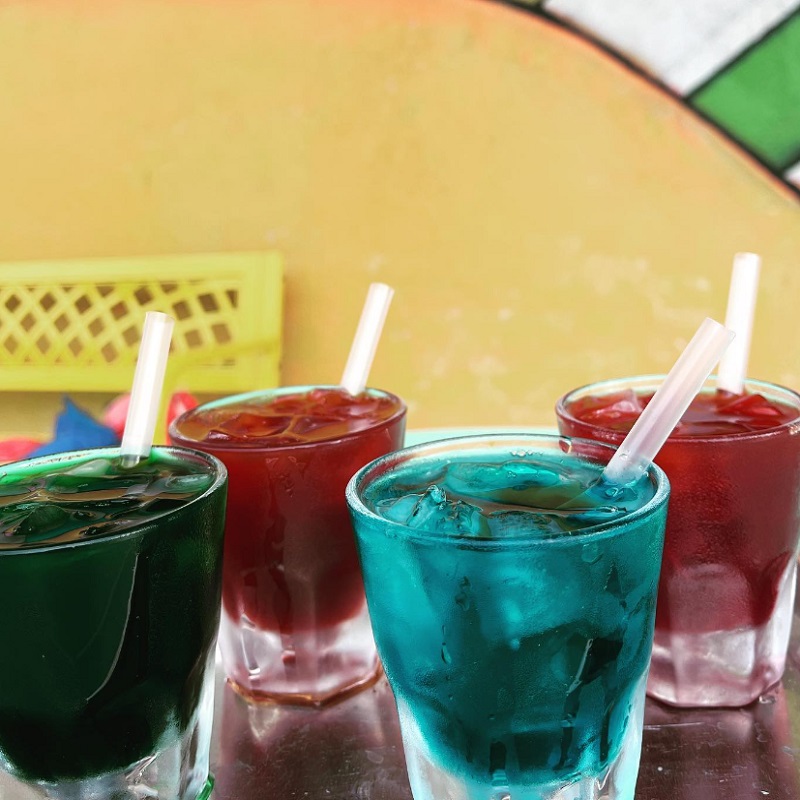 We have happy hour Mon to Fri from 4 to 6 pm. We also offer Wednesday Wine Specials!
$1 OFF
MARGARITA or ESPRESSO MARTINI